Call Forwarding¶
If you are or will be out of the office and would like to have your calls forwarded to another number, follow this guide.
Off Campus¶
If you are away from campus (or are away from your desk) and need to have calls forwarded.
Connect to the Campus VPN (Global Protect).
Visit the Cisco Unified Communications Self Care Portal. Use your LinkBlue credentials to login (@uky.edu is not required).
Verify your work phone and extension is listed under the My Phones section.
Select "Call Forwarding" from the menu on the left side.
In the new screen, place a check next to "Forward all calls to:"
Select "Add a new number" from the drop-down.
Enter the phone number you would like all your calls forwarded to.
Click

Save

.
Note
All numbers must be prepended with "9". Local numbers only require the the last 7 digits while long distance number require a 1 and the area code.
Examples: Local numbers - 92685555, Long distance - 915028575555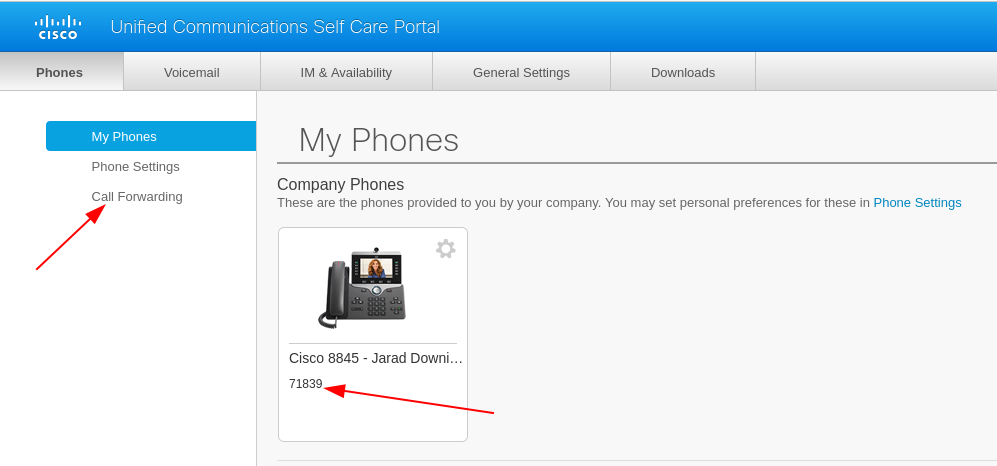 On Campus¶
The Cisco 8845 VOIP desk phones (full color display w/ camera). The third button from the left on the first row under the display should be labeled "Forward all". Hitting this button will allow you to enter the number to have calls forwarded to. Enter the number in the same scheme as the examples above.
Note
When entering your number, after pressing the first "9", you will hear a dial tone. This is expected and will automatically disconnect once you have finished entering your number.