NFS Version 3 in Linux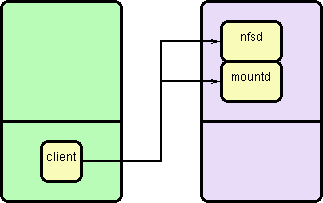 Student: Calathur G. Harish Kaushik 7/2000, first job at Wind River, Alameda, CA.
Purpose: Implement the NFS Version 3 protocol in Linux
Method: Modify open-source NFS Version 2 client and server code to handle NFS Version 3 protocol. The result is application-layer servers: nfsd and mountd, an enhanced mount program, and a client integrated into the Linux VFS layer. The software is about 90% functional.
What the student learned

NFS Version 3 protocol
Linux VFS
Sun RPC and XDR (XDR had to be enhanced to handle 64-bit quantities)
Technical writing skills in preparing and packaging the resulting code.