Enhanced mail user agent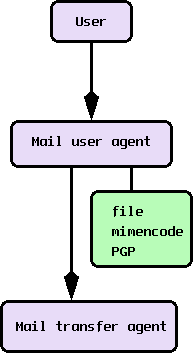 Student: Dhaval Shah 11/1999, now at Oracle
Purpose: Enhance the mush mail user agent.
Method: Allow mush to send and receive messages (1) with attachments in MIME format, (2) encrypted and/or signed with the PGP encryption techniques, (3) corresponding to two-party ``conversations''.
What the student learned

Adding new features to a significant software package. (This part took considerable cleverness.)
The MIME and PGP protocols.
Design of user interfaces.
Documentation.