KATR: Software for morphological studies in computational linguistics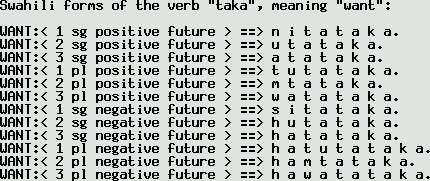 Student: Lei Shen 9/1999, now at Bell South Cellular
Purpose: Compute queries about language morphology
Method: Morphology of a language (for example, its declensional scheme) is encoded in default-inheritance hierarchies in the DATR language. This project extends DATR to include set-based rules, which are of value in Bulgarian and Swahili. The software is a freshly-written Java program that parses and compiles the KATR program and then accepts queries on it.
What the student learned

Writing a compiler in Java. (This part took considerable cleverness.)
Building a detailed specification from a vague starting requirement.
Adding new features to an existing software package while considering tradeoffs.